Myspace Band Music Player Generator
Myspace Support Fixed Again, Again
The generator will be updated for June 12th's updates.
Usage
This is a generator that will allow you to put a band's music player from their profile on your page, such as the one shown below.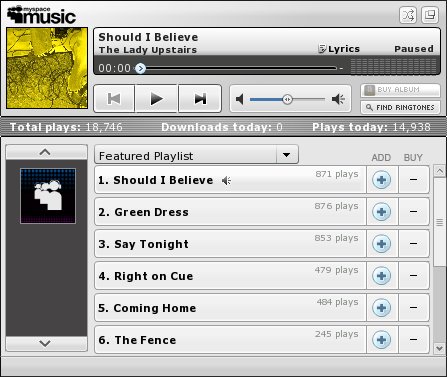 Just submit the link to their profile on Myspace, and if a player is found on that page, it will generate the code you can use to put it on your own myspace.
Small-A a.k.a. Insane
Hey, Check my songs... Myspace.com/Smalloficiall Tanks-
11-11-2010
sam
thank you so much this is very helpful
11-14-2010
sam
perfect thank you so much
11-14-2010
Dj Charlie Star
It's not working any more. Can you fix it?
11-19-2010
Meezy
Seems that MySpace has changed their coding used for the Music Players. All my custom sites no longer work now because of this. Is anyone working on a fix?
11-21-2010
J Tha Truth
Is ANyone Tryin To Fix This?
11-21-2010
Gary
What urls are you trying that aren't working anymore? Paste specific examples.
11-21-2010
Joel
I tried applying the html again from your site but it still doesn't seem to work.


11-21-2010
Binx Lopez
My band player aint workin either. Do you think it will fix itself or no? www.myspace.com/binxlopez
11-22-2010
Gary
Joel and Binx, I just rewrote a certain part of it to work with your type of page. Let me know if it works for you guys now.
11-22-2010
Meezy
Thank you so much Gary, you're new code seems to be working!
11-22-2010
Dj Charlie Star
Hey Gary, mine's not working either. Can you fix mine? www.myspace.com/djcharliestar
11-22-2010
Dj Charlie Star
Nevermind, but is there an 'Auto Play' option?
11-22-2010
Dj Charlie Star
It won't embed in comments either. Is there any way to edit the code for auto play and enable embed?
11-22-2010
J Tha Truth
Ya Should Put Tha Auto Play It Sucks with Out It Still Glad Its Workin Now
11-22-2010
Gary
I would love to put auto play in, but I cannot figure out how on the new player. If anyone can link me to a player that is already autoplaying, that would be great.
11-24-2010
Gary
Unfortunately if this code does not post in comments, that means myspace is starting to filter it out for some reason or another.
11-24-2010
Wonder
Gary can you send me the code for my player as well?

Thanks
11-28-2010
Binx
Its up and running Gary..Thanks
11-28-2010
Petter
All my players stoped working to... Can someone give me the fix??

PLEASE!
11-29-2010
Gary
If it is not working for you, please submit your url again and generate new code. If that does not work, let me know.
11-28-2010
Brokenstar
hey gary,my code is not working out,can you fix this??
www.myspace.com/thebrokenstarmusic

thank you!
11-29-2010
Gary
Try generating again, it worked for me.
11-29-2010
roland
Thanks for all the info.
11-30-2010
Chris
This single handedly saved our day, our myspace players started breaking on some of the websites we manage and we were able to re-extract working embeds using this tool.
11-30-2010
Sebastian
Hi Gary... Do you know how to to embed my band's Myspace player in a facebook page? (usaing fbml or something else)

THANKS in advance!!!
12-07-2010
Tim
Will comment if it works
12-20-2010
dave
Hi, works great for firefox, but only a black box shows in ie.... any ideas?
12-31-2010
Yamilette
Hi I'm a femail
01-04-2011
chimiraz
Thank you this one works well !
01-14-2011
DMAUA
www.myspace.com/dmaua021
01-16-2011
BE
www.myspace.com/orangevaleproductions thanks for any support california livin Balla Educated
01-23-2011
oups
thank you very much
02-08-2011
Maarten
a great help!! Thanks so much!
02-14-2011
Gary
I updated it two days ago. I just tried your URL and it worked for me in firefox and IE, please try again or let me know what browser it is.
02-21-2011
Gary
Gabe, I just added support for your page. try now.
02-21-2011
Dawna
It generates the code on your site. But when I try and cut and paste to my Paganspace.net site it does not show the player.
Can you help?
Thanks
02-23-2011
Joshua Turner
Is there a way you can check out myspace.com/xdarkxpriestx90 & find a way to generate the code for that, so i can post the profile player into my blog? if you cant, at least show me the part in the source code or send me the source code from view source to put the player up on sites. I can't tell where it is when i view the source code. I can't tell where it begins and ends.
02-23-2011
ISC
Strange. I submit my site and it works on your web, I copy the code to mine, and then i doesn't work... I'm trying it from my harddisc, has the web to be online?
02-23-2011
ISC
AHA! Uploaded the page and now it works! Good :) Ty!
02-23-2011
Maarten/Goldzounds
Hi Gary,
I used your generator to embed our myspaceplayer into our website. (www.myspace.com/goldzounds)
I make this website using iWeb.
It worked properly until last week. Can you fix this bug? Would be appreciated greatly!!
Regards, have a great day!
Maarten
02-24-2011
hunter
it isn't working for me. posts on page, but not in my set widths and heights. i don't THINK it's a coding issue that i accidentally messed up when re-pasting, i've been staring at it for awhile.
myspace.com/tomgunpow
heytomgun.com is the site it is on
i left it messed up for now, still plays music, so you can see what it does. thanks!
02-27-2011
Shirley
I copied the code onto the web page and got - a box. It's the same size as the player but that's it. Any suggestions?
03-01-2011
Shirley
update on last entry. I was viewing the page from edit mode before. Now when viewing the page, the player is there but when I try to play a song, I get the message that you have to be logged in to play it. I am logged in and the visitors to the site will not be. Suggestions?
03-01-2011
Horst
I generated the code and tried to use ist on my webpage, but it does not work att all.
Thanks in advance.
03-06-2011
Fred
Hi, Thanks so much for the code! works brilliant. I'm trying to work on the color of the player though. I've set it to dark in myspace but the light player still embeds (is the same on the popout player - light). Maybe something needs to update somewhere or maybe embedded versions default to light color only. any ideas?

Also, I've embedded a google calendar and redirected it to use my own CSS file and JS file - is anything like that possible here or am I showing my ignorance?

Thanks again for the code!
03-06-2011
Miguel
it used to work for me nicely but since a few days ago it is not working anymore... appears a black box when I embedded it on my Wordpress website...
03-07-2011
leader
hi man ..i can see the player when i embed the code its not working for me help please ..thank you
03-07-2011
douglas
hello! unfortunatly, it didn't worked to my page: www.myspace.com/undermineenemies
03-13-2011
s16
Yeah i search this 30minute... thank you!!!!
03-14-2011
thankful
thanks this fixes the problem, new player working great.
03-14-2011
marla
Help me www.myspace.com/maglorebanda
03-17-2011
yori
Hi Gary, your generator bandmusic dont work in orkut this page blocked your generator HTML code, u have any idea how i make for this code work in: www.orkut.com ? congratulations! im waiting =]
04-11-2011
Gary
If they block it I'm not sure there's much you can do to get around that.
04-11-2011
OneManArmy
Well done Gary thank you much!!!
04-12-2011
OneManArmy
Thought I would leave a second message to show my deep appreciation and love of keywords.

This 2011 myspace band music html code generator for embedding your profile player without the interrupting ads into a blog, wysiwyg, forum, article, post, social network, html editor, and etc. Is exactly what I was looking for.
04-12-2011
Sesli Panel
Thank You Wery Much..
04-21-2011
Lee
Thanks v much for this. Can I ask a favour? Would it be possible to turn off the autoplay?

As I say, many thanks
05-11-2011
Lee
Thanks v much for this. Can I ask a favour? Would it be possible to turn off the autoplay?

As I say, many thanks
05-11-2011
Jeff
Can you please provide a code for me to embed the new music player on my personal website (not myspace)? I have had the old player on my site working without any problems, but now it is just a blank box.
Many thanks
05-15-2011
paolo
copie de Myspace Band Music Player Generator

05-16-2011
Jeff
Dear Paolo, I have already tried the code using the generator, and it doesn't work. All I get is a blank box.
05-16-2011
jeff
Dear Paolo/Gary, the site in question is www.yellowriver.0catch.com
If you go there, you can see the blank box. Click on it and view the source code, it is exactly as your generator provided.
The box eventually says there is a problem with connecting to myspace and to try again later.
Pleae help.
05-17-2011
Benny
greet you like do I get mine own musik in myspace with it leute mine musik can hear?? indeed, has looked to me quellentext, however, with it I do not come irgendswie clearly please around hilfe

Sorry mine english is not well was translated from translator
05-28-2011
G . W
Hey, myspace just changed their layout, your stuff does not work anymore
cheers
06-15-2011
custom research papers
This is cool application. Any other apps or generator you can provide to me for promotion purposes? It would work in all OS, right? Because the other one I used, it became useless after 3 months due to the Linux update and saying it's not anymore compatible with it. Thanks.
06-17-2011
anony
The Myspace player embed does not work anymore.
06-19-2011
iSWORD
Hey Gary, I can't use the player for myspace.com/owlcity
06-20-2011
yo
when is the autoplay option gonna be available and where are the buy buttons on this new version?
06-30-2011
oonaghd
Hi, the generator is a great idea, but anyway it doesnt work for mine either, apparently in May this year the player was upgraded and introduced to 25% of my space users. So lucky us, we have that upgraded new and improved player that so far seems impossible to embed to our website.

Regards,

oonaghd
07-02-2011
oonaghd
Hi, the generator is a great idea, but anyway it doesnt work for mine either, apparently in May this year the player was upgraded and introduced to 25% of my space users. So lucky us, we have that upgraded new and improved player that so far seems impossible to embed to our website.

Regards,

oonaghd
07-02-2011
rockster
hey its not working anymore :( have a go at cracking it again for the new player as of june 2011 - YOU ROCK dude! Nobody else has been able to do what you do!! Keep it up :)
07-05-2011
1
Hi :-) Do you have a Moment? Then check my Songs.Thx :-)
www.myspace.com/nrking
07-12-2011
Carlos
I can't seem to get the player working here. It doesnt show up the songs :/
Can you help me, please?

Thank you very much!
07-15-2011
Miguel
new format is not working... a week or so ago all was fine but now it appears a blank player... :-( please, help, your bandplayer is fantastic and really need it...
07-21-2011
One Above (band)
It does NOT work with the newest Myspace player (July 2011), because the new profile player there is a series of individual pop ups for songs, and not embedded on the page as it was before. We used your generator a few months ago to put a copy of our Myspace player on our profile at myboomerplace.com, and it worked fine (but visually, it didn't have the dark shading that it had on Myspace).
07-25-2011
Francisco Gonzalez
Hello, is there a way to shut off auto play??

Thanks, this is very useful
07-29-2011
Dennis
Great Generator, thanks! Small error: <!--[if !IE]>--> you should take out...
Cheers
Dennis
08-07-2011
Mauricio
@Gary, hey bro, iv been trying to download music from some of the artist, but because of the new player i cant, can u help me out
08-08-2011
chaussures air max
Ces fruits air si gorgeous.Fresh est ma fa?on préférée de la plupart des baking.I aimer la lecture antics.I mignon Maryam espérons qu'elle adoré manger son

fruit fav dans les muffins:.)
08-22-2011
shane
this does not work when try to past it on to the myyearbook site
08-29-2011
AutoPlay: Fix
Send me an email about AUTOPLAY and I will fix this for you.

ecktronic@gmail.com
09-08-2011
Anonymous
The thumbnail is always blank for some reason.
09-09-2011
chris
hey man when im posting the band player on other profiles in comments it dosent work... is it a fault ?
09-21-2011
Pedro Marques
Thanks for this effort.

Best regards
10-09-2011
Bill
Thanks for the code. I'm building my first website and am amazed how much free help there is online. I can get the new player to work in Chrome & Firefox browser, but IE shows s blank box. Is there a fix for that?
(www.myspace.com/naturallitemusic)
10-12-2011
Arber
Dear garyshood staff
I am derperetly trying to find code for my myspace player
the link is myspace.com/arberkrasniqi
but all I get from the web is a blank player please help me i really need that code
thank you in advance warm regards Arber
10-17-2011
Bill
(I think i forgot to include my email last post)
Any update on the blank screen in IE?
I need a code that'll work in IE, Chrome, and Firefox:
www.MySpace.com/naturallitemusic

THANKS!
10-18-2011
Kathy
How do I use this with the Rugged theme? I tried entering the PLID etc. but it didn't show up.
10-30-2011
Gary
Thank you for letting me know, updated.
11-06-2011
Mickey Mendoza
Hi I like this how can i get in myspace. Page. Or can i haved in facebook 2?
11-06-2011
Ali Nizar
Hi
As soon as i put the code in my html page, it does not work any more. It works only her in this page where the code is generated.

11-26-2011
noveda quinn
hope this works
12-21-2011
Nicholas Wilso n
Been looking through the thread here to see how to have the player AUTO START. But have not seen any results on how to do such. Does anyone know? I don't see anywhere in the code to change such. It is an added command?

The website is:

thealstar.com

Thanks!



12-21-2011