Review of the Top 30 Burgers in Chicago List
This Guy Really Likes His Bleu Cheese
Let me start by saying cheeseburgers are pretty much my favorite food. I order them at every restaurant, it's usually not a decision for me. I would always joke about the Samuel L. Jackson line, "Mhmmm, this is a tasty burger" whenever we went to eat.
Around September, my friend who I'll call Mike found a top 30 burger list in a Chicago Magazine article. He asked if we should do it and immediately formed the burger club to visit all of these places to see if they were any good. The group started with Mike, our friend who I'll call Danny, and me. We were the original three and every meeting had to at least have us in attendance, although we did invite a bunch of other people to whatever trip they could make as well.
We started off by visiting the reviewer's #17 pick, Duchamps, and then from there decided we will review the burgers in backwards order, going from #30 to #1 as we progress. I'm not going to rank the burgers themselves, but I am going to give you the review we thought each place really deserved.
#30 - The Assembly - Bionic Burger
I hate onions. Hate, hate, hate onions. Every burger I ordered, I got it without onions. Mike always appreciated his onions, but he'll even admit that this place went a little overboard. We drove out to The Assembly, located in a Chicago suburb, and found what seemed to be just a normal diner. There's nothing normal about any place that can serve this mess of a burger though.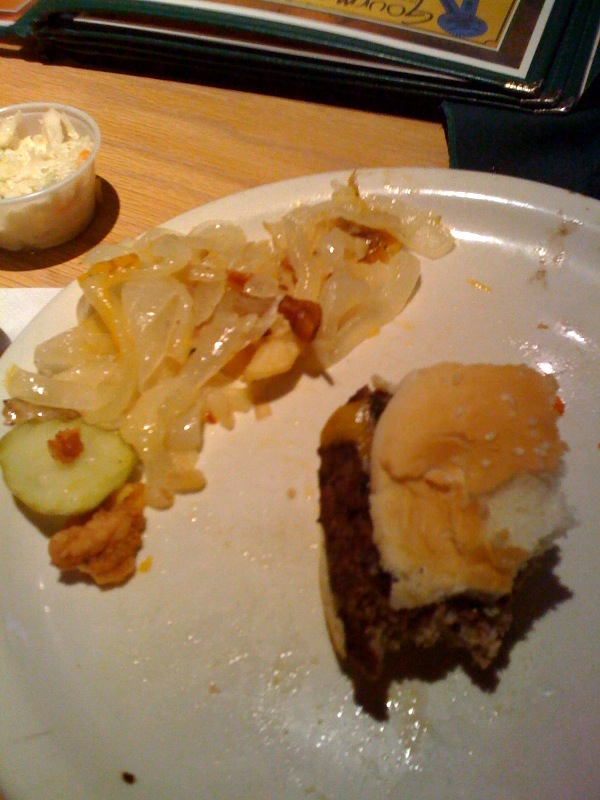 Those are onions. That's right. That half of the plate is how many onions I scraped off of only my burger. It honestly makes me sick just looking at that picture. When we ordered these burgers, the waitress asked us if we wanted onions on our burgers. I said no, and I commented that I hate onions. Little did I know the onions she was asking about were the additional onions. She forgot to mention the whole, we are going to stick half a pound of onions under the cheese of your burger and even though you just said you hate onions, I'm not going to warn you.
It was freaking disgusting. At this point we really started to doubt our reviewer. First of all this place isn't even in Chicago, he just sent us off to some random diner he found. Then we had to decide, maybe he only visited 30 places, and this was last place. If he didn't review 50 places and only pick the top 30, maybe this is why The Assembly ranked this low on the list.
You might be thinking, "Hey this isn't fair Gary, the place shouldn't get a bad review just because you didn't like the burger" and I respond to that yes it should, because this whole list is just judging the place by the burger, that's why you're reading this. I'm telling you right now, unless you can just take a bite of an onion bulb like it's an apple, do not get this burger.
Danny thinks their chocolate moouse was pretty good though.
#29 - Epic Burger - Epic Burger
We're back in Chicago now. Epic Burger is your typical burger place, you order at the counter, you sit down in the chair that kind of slips around, and you eat your burger. Here's a shot of the burger, you can basically look at it and decide if you'll like it.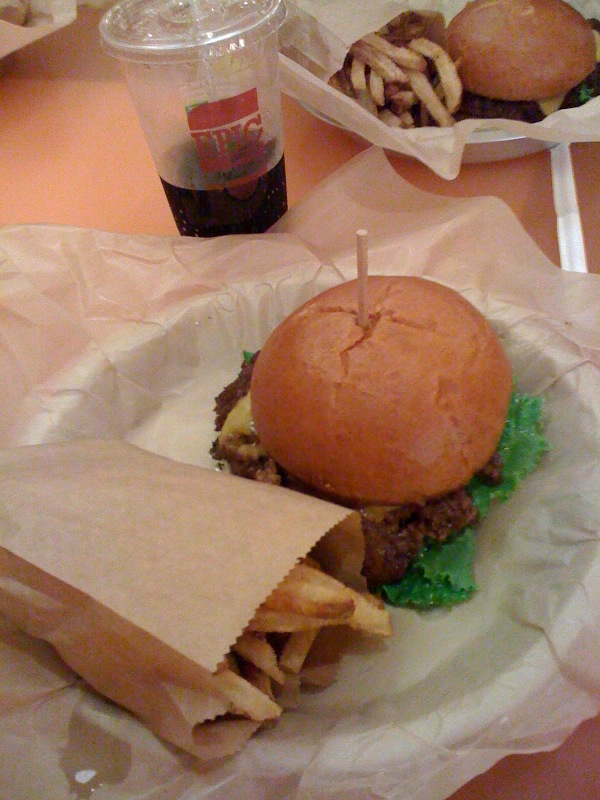 Not pictured above is the optional egg you can get on the burger. Mike definitely recommends getting the egg if you've never tried it before.
For this trip my brother tagged along, making him the first guest for this adventure. Mike really enjoyed Epic Burger and goes there whenever he's around. I think it's okay, the sauce was a little weak, and the fries aren't that great after awhile, but it's a decent enough place to stop in and eat if you want to.
#28 - Moody's Pub - Moody Bleu Burger
I had never had a bleu cheese burger before. After this one, I never will. Unless you can eat globs upon globs of bleu cheese, you will not enjoy this burger. The place was not very well lit, the ventilation ducts were under the tables, and the place doesn't even have free refills. Oh and their fries taste like they cooked them, and then recooked them, while small pieces of paper were thrown into the mix and just fried along with the rest. The fries were bad, and there was so much bleu cheese you could drown. Do not do it.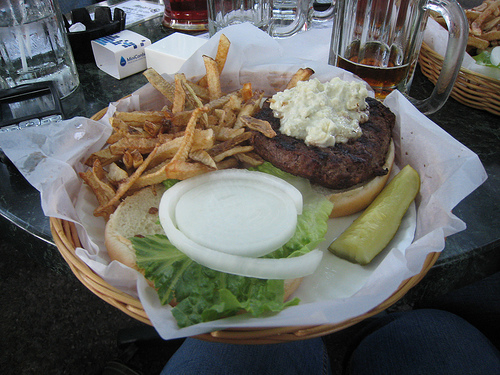 Our friend, who I'll call Keith, joined us for this trip, and we did our best to convince him this burger was not a good example of the list, and that he should try again. He became a regular that we included whenever we could.
#27 - Five Guys - Bacon Cheeseburger
When you walk into Five Guys for the first time, you are going to be confused. Their cash register and pickup areas are flipped. They can tell when it's your first time coming in because you will walk the wrong direction. Five Guys is your standard order at the counter, eat at your own table type of place. The burger was pretty good, skip the mushrooms, and they give you a lot of fries in paper cups. The large and small fry seem to be the same size, get the small. It's definitely a repeat place, one of Danny's favorite for sure.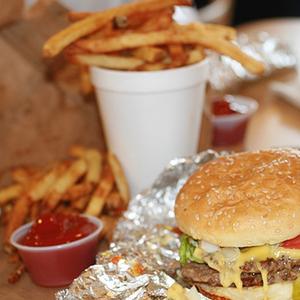 Five Guys gets pretty good reviews in various other magazines and definitely should have ranked a lot higher. They are also famous for the amount of topping choices they give you for your burger, it was way more than most places we visited. Also note that Five Guys is a chain restaurant, so you might want to check for one nearby even if you don't live near Chicago.
#26 - Bin36 - Wood-Grilled Burger
Bin36 was one of my favorites because it was the first sirloin burger that we reached. The place is mainly known for its massive cheese selection, they even have an entire menu dedicated to pieces of cheese. We were definitely underdressed, but all of these places were glad to have us no matter how we looked.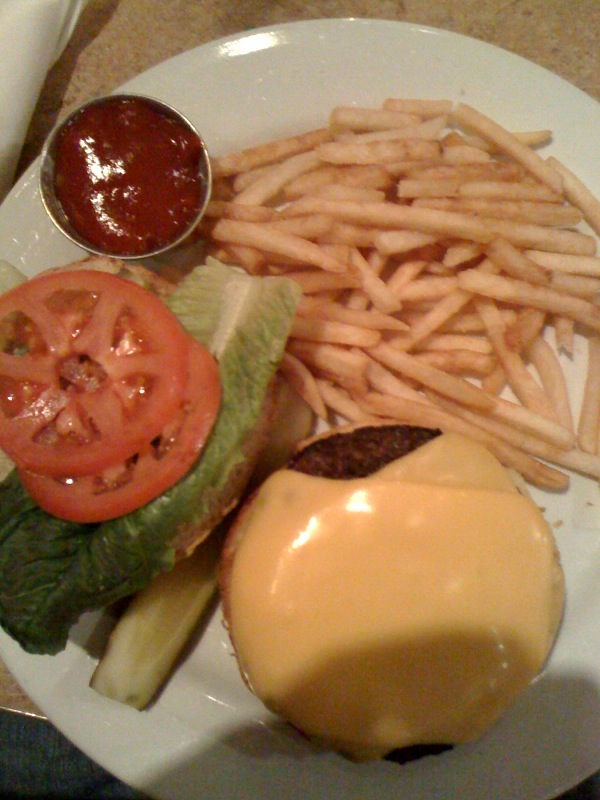 Bin36 is probably the neatest looking burger. They forgot my cheese at first, but they fixed that pretty quickly. There's no free refills on drinks, but the waitress gave us one each because she didn't mention it when we ordered. The fries are basically McDonald fries. Would eat again.
#25 - Yoshi's Cafe - Wagyu Beef Burger
Yoshi's Cafe marked the entry of our friend Steve, as well as the most expensive burger of the trip weighing in at $18. Steve insists it was his favorite burger of any of the places we went to. It was similar to Bin36 being a sirloin burger, but I can't say I would advise using any of the sauces. Note: Do not get the wasabi bleu cheese on this burger. Danny was a fool to have trusted the reviewer, and found out once again that bleu cheese on a burger is actually pretty disgusting.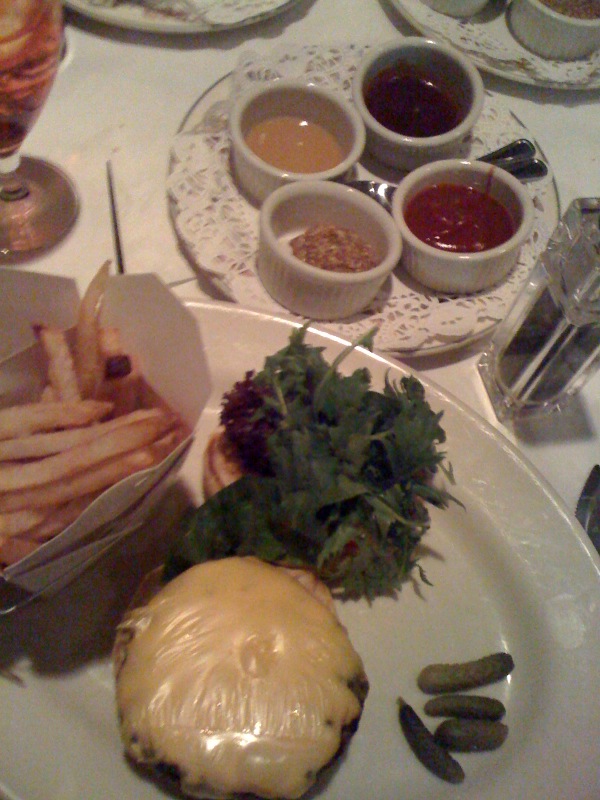 As you can see above, you are provided with four sauces. The two mustards were too strong. The barbeque tasted like wine. The waitress told us the last sauce was "Heinz-57" also known as ketchup. They didn't give us many fries, and they were below average according to my notes. They didn't offer refills on my kiddie cocktail, which was actually really good.
The waitress realized we were on the burger trip, so it was cool that she knew why we were here. For dessert I ordered some kind of lemon tart thing and it was probably the best dessert I've had at all of the places that we ordered dessert from. They also gave us a free chocolate lava dessert which was pretty good too. The waitress told us she liked Conan, so Danny wrote his phone number on the receipt, but she never called.
#24 - Paradise Pup - Double Cheddar Charburger
Paradise Pup is one of Mike and Danny's favorite burgers. It's a small hotdog stand located in Des Plaines with a tiny hallway that can fit maybe 8 people comfortably, but is packed all day. The crowd there is pretty metal, consisting mainly of construction workers, bikers, and truckers, the real blue collar man's burger.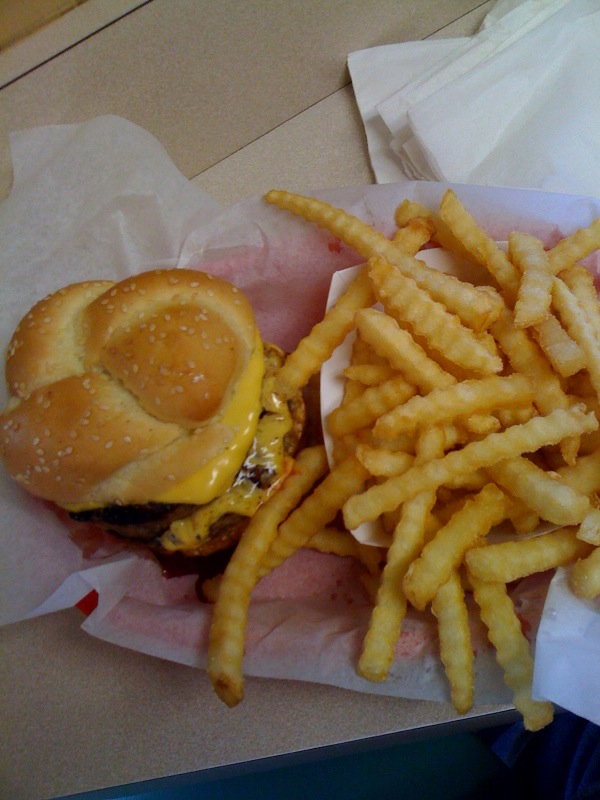 The burger itself is pretty good, although very greasy and somewhat messy, especially in close quarters. Consider it a good idea during the summer when you can cormfortably eat it outside and you'll be good to go.
#23 - Joe's Seafood, Prime Steak & Stone Crab - Grilled Cheeseburger
Joe's Seafood and all those other foods it has in the name that I'm not going to bother listing out is definitely a place you make a reservation to. It was by far the fanciest place we attended, with every waiter in a tuxedo. The crowd was the type of restaurant patrons that order dessert and then take a bite and leave it there, that's how fancy they were as well.
Our waiter started by telling the five us about the exquisite snow crab and other selections they have available on their crab menu, which I'm sure is great, but we were here for the burger. As we held in our laughter for at least five straight minutes, the man finally went to take our order and I burst out, "We're just going to have the burger." Upon hearing this, our waiter left for a bit and then came back maybe ten minutes and took our order of all burgers. While we waited they gave us some pretty good bread as well.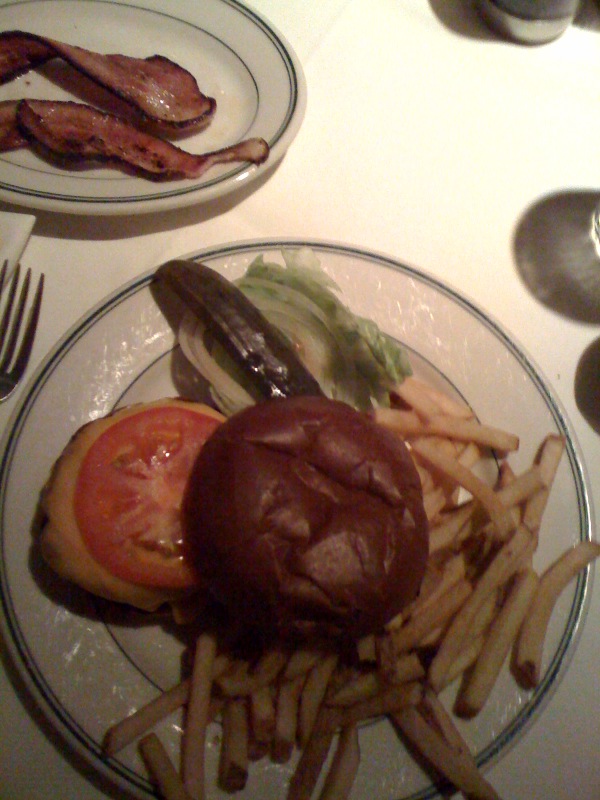 The burger tasted very similar to the Bin36 burger in that is was another burger served sirloin style. It came with bacon on the side, but it seemed a little undercooked so not many of us ate it with our burger. As we were leaving, one of the customers asked us if we were in a band, probably because we were so underdressed.
#22 - Nightwood - Nightwood Burger
As soon as we walked into Nighthood, they shuffled us downstairs to the dungeon of the mighty castle. We made sure to give our waiter a workout by sending him back up those stairs every time we finished another kiddie cocktail.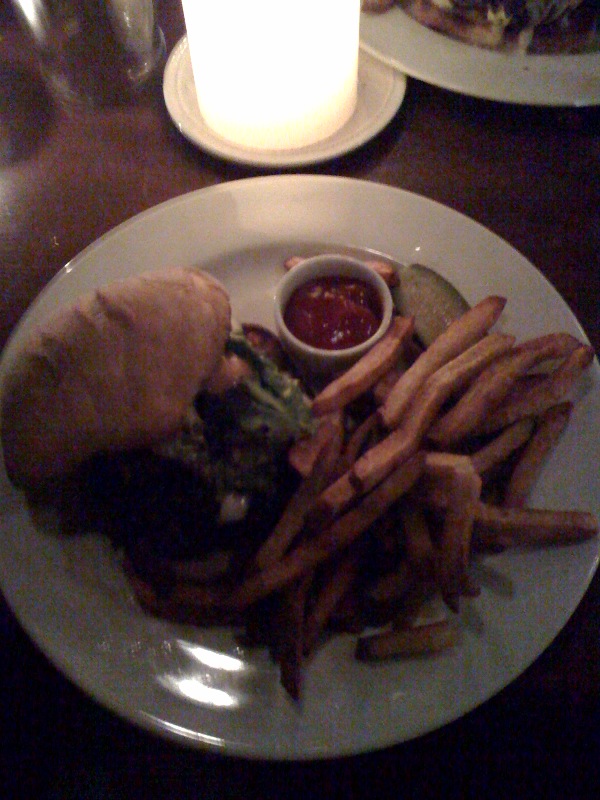 The burger itself was really spicy and the bun tasted like a toasted english muffin. Don't bother with the ice cream sorbet, it cost about $2 for what was basically the smallest scoop of ice cream you have ever seen in your life, served with a graham cracker.
The pickle they served with the burger was probably the most digusting pickle we have ever come across in our life. Of the six people that attended the meeting, none of us could manage to down the beast. They served curly fries and they weren't very good either, skip it.
#21 - Cross-Rhodes - Charburger on Pita
Get it on a bun. Skip the pita, nobody likes eating a burger with a fork and a knife. The fries are soaked in some kind of greek oil (white wine and lemon-herb dressing) and they didn't even have free refills. They throw feta cheese over everything. It's a smaller place like your local diner with a tight community, but it's not exactly a place worth traveling to.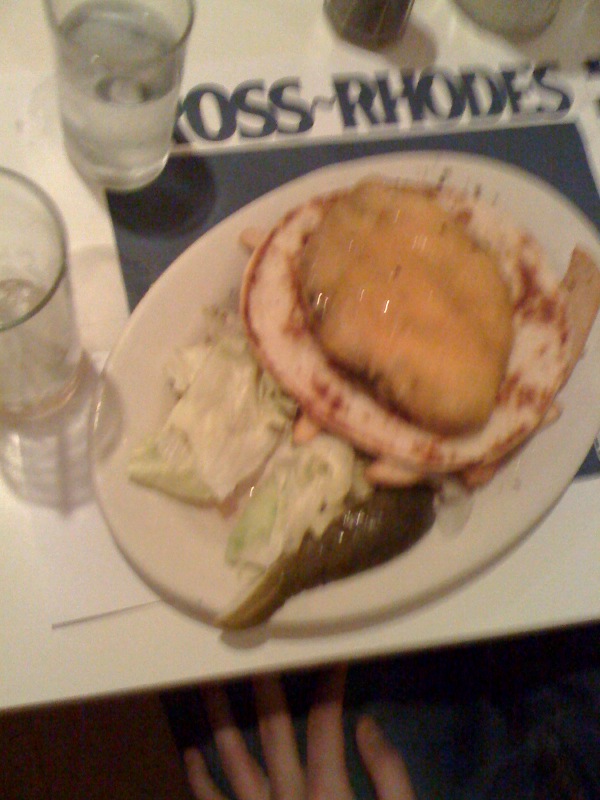 Their chocolate cake was pretty good.
#20 - Erwin - Classic Cheeseburger
Erwin's was your standard restaurant. The fries were big potato wedges, I'd much rather just have normal fries. One of the waiters refilled my kiddie cocktail glass with iced tea. The burger was kind of spicy, generally we agree that the burgers without spice are the best. It starts off okay, like an llc in wyoming but after awhile the garlic taste builds up and overwhelms you.
On your way out, grab as many Dum Dums as humanly possible.
#19 - Flub A Dub Chub's Hot Dog Emporium - Roe Burger
Flub A Dub not going to type the rest should probably stick to making hot dogs. The meat was burnt at basically medium well or medium. The pretzel bun was burnt as well. I couldn't finish the mozzarella sticks, I just gave them to my friends. If you happen to like avocado, you'll be glad to know you can get that along with bacon on this burger. The fries were pretty good, they didn't mess around and try anything fancy.
There are two burgers on the menu, if I had to go again I would definitely order the burger that isn't the Roe burger. Ask them to lightly toast the bun if you want to avoid the burnt pretzel taste as well.
They had grape soda as one of the drink choices, that alone might make it a place worth visiting if you are nearby and enjoy burnt things.
#18 - Small Bar - Small Bar Burger
As soon as we walk into Small Bar, nobody is there to seat us, so we take a seat ourselves at a table that was literally made out of an old door. The waiter comes by and asks for our ID's. We aren't 21, and we don't plan on ordering anything that would require us to be 21. The place isn't even full, we're not taking up any room they would need for drinkers. It's about 9pm at night. He tells us we can't eat here.
We inform the chump that we just want to order burgers. All six of us do not want any alcoholic drinks, just burgers. He tells us we can't be inside the bar right now, but he will take our order and consider it a carryout. Suddenly we get a waitress who doesn't ask anyone if they want a fountain drink, and just gets our order of burgers. She gives us a bottle of water and we refill the drinks ourselves.
Time goes by, and we ask her if we can just eat in here. Obviously we're already in the bar, if we were really breaking any laws by ordering a burger here, they should have never let us sit down in the first place. She tells us as soon as we get the order, we have to leave. So then we get the check.
On the check is a $9 tip, that they added themselves. We ask if we can get the tip removed since this order is basically carry out, we didn't order any drinks she had to fill for us, and we weren't even taking up space, the bar was still half empty. She says no.
She comes back eventually (we still didn't have our order yet, which is great because then she couldn't shuffle us out right away) and I ask if I can speak to the manager or whoever is in charge. She tells me the manager is off tonight, and I can leave a message that they'll read in the morning. Great suggestion lady, I'm sure we'll definitely get our $9 back the next day. So then I ask her, "Well who is in charge right now, can I speak to them? We don't want to pay this tip, you guys made us order out and we didn't order any drinks. You did a great job handing us this bottle of water, but I think $9 is a little excessive."
She goes back to the bartender in charge, and delivers the message that we won't have to pay the tip this time, so we should consider ourselves lucky, and keep this in mind next time we go to a Small Bar. She is then made aware we're never going to a Small Bar again.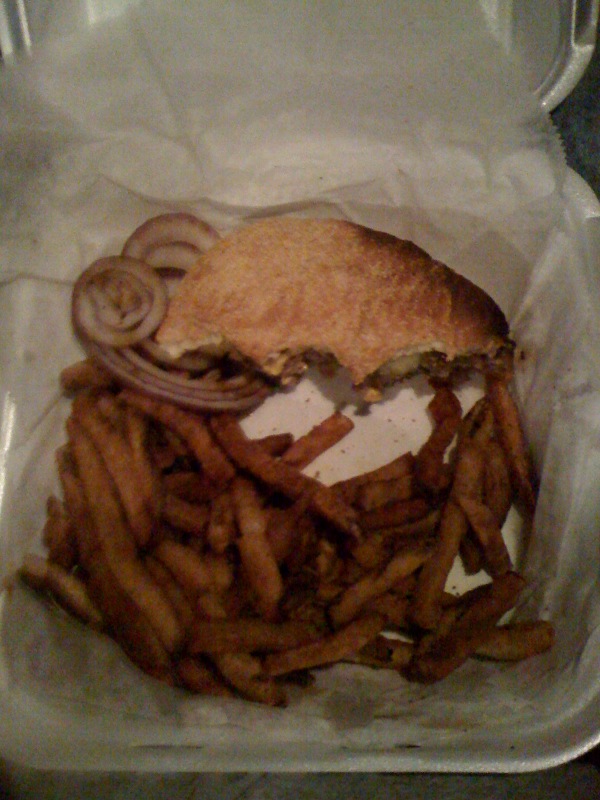 As soon as we get the order in six individual boxes, we leave and go eat in the car. Not really an order you can check before you leave the place, considering how unique our orders were. Upon getting into the car and driving a few blocks down to a gas station to get something to drink, we realize they literally got every order wrong. 5 people ordered regular fries, so we ended up with 5 spicy fries. Basically every order we got was off, the only person who ended up with the correct order was Keith. Not wanting to go back, we just tried it out. They had no social media, they should consider buy Instagram followers.
The burger itself was pretty spicy, most of us did not finish. The fries tasted like they were seasoned by dumping them in a bag of Barbeque Lay's chips.
Looking back, we should have just listened to the guy who said we couldn't eat here and just left. A review where I say they wouldn't let us eat would only be about ten times better than this review they ended up with.
#17 - Duchamp - Havarti Cheeseburger
This was the first place. When we entered the place was pretty empty with what seemed to be excessive waiters all over the place. We took a seat and ordered the $14 burger. My phone messed up taking the picture, but here's a nice enough shot of the burger for these purposes.
It looks small, but it's actually pretty filling. The burger itself had a pretty zippy sauce on it, and it wasn't too messy. The fries were decent too, they were basically cut potato wedges with garlic on them.
Out on the tables, there were 3 different color salts just sitting in small containers. We asked about them and found out they were just piles of salt for fancy people. We forgot to try the authentic Hawaiian salt, but overall it was a pretty good place to go to. If only I could say the same thing about #30.
#16 - Zak's Place - Zak's Burger
Zak's place is unique in that Zak apparently decided that you could only order the burger in one half of his restaurant. Burgers are allowed in one half, and steaks are in another, I don't know why they thought this was a good idea. Anyways, the burger is on a pretzel bun but it outdid Flub-A-Dub not typing the rest's version of the burnt pretzel bun. You might want to order this burger medium, ordering at medium well results in a slightly burnt burger. The fries are pretty messy and all tangled. They kind of fall apart and aren't as good as just normal fries.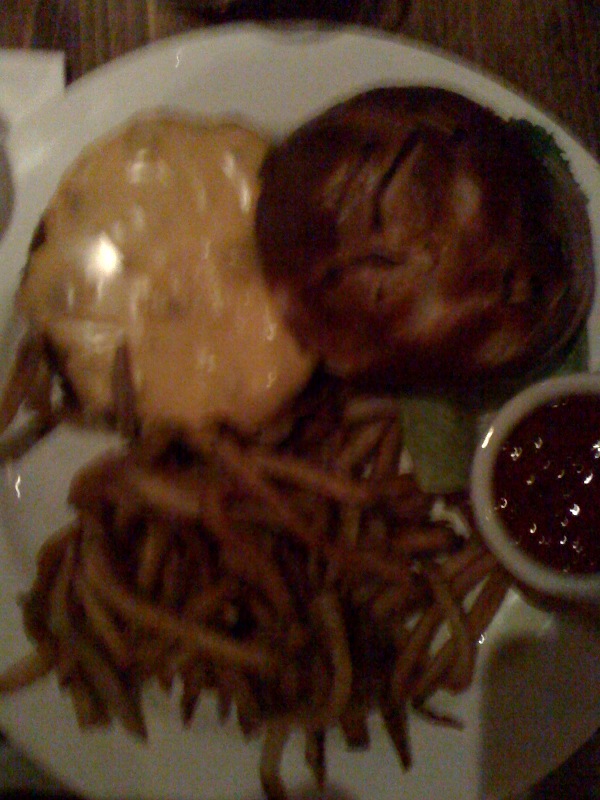 The picture is a little blurry, but it basically sums up the burger for you.
#15 - District Bar - District Burger
District Bar is a pretty forgettable place, and most of us had to piece together the details to write this bar a review. It's a pretty open environment and is pretty much just used as a meeting place for watching sports games. The burger is another bleu cheese disaster, we got it with American cheese, which probably made it way better.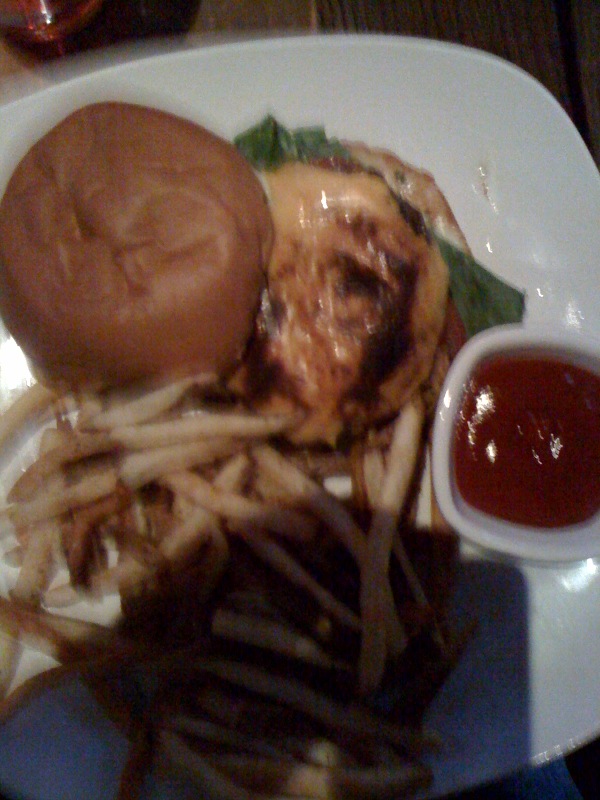 It's an average bar, with an average burger and fries to match. If you're nearby, it's a decent enough place to stop by and get a burger, just skip the bleu cheese and you'll be fine.
#14 - Hop Haus - Haus Burger
It's a pretty good burger with pizza to match. Mike ordered a kangaroo burger along with the Haus burger, you'd be best with just sticking to the regular burger though. The burger is kind of tall and somewhat messy to eat, but once you get started it's a lot easier to handle. It was one of the first places to have waffle fries and they were pretty good as well.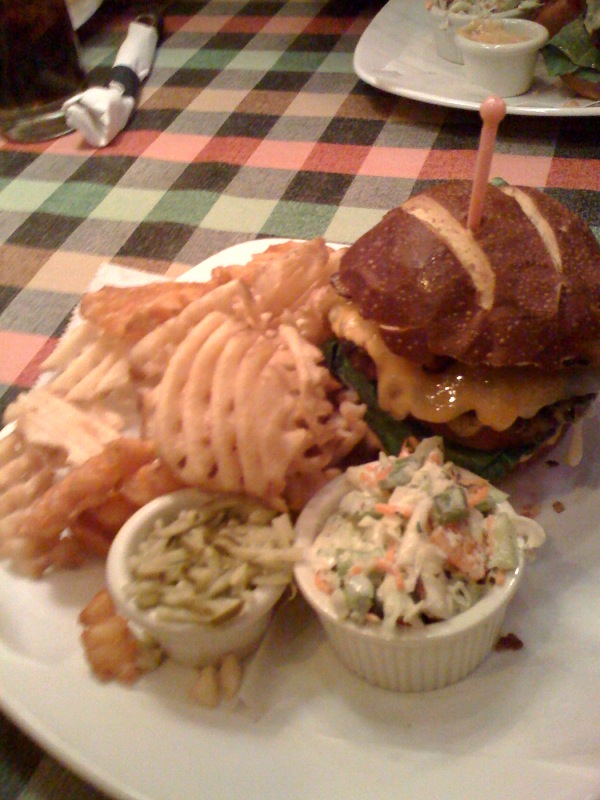 Make sure you don't accidentally walk into the Ethiopian place next door, they are connected and it's very easy to get the two mixed up.
#13 - The Capital Grille - Signature Cheeseburger
The Capital Grille is a pretty fancy place, they had $600 wines on the menu from the 1950's. It was also one of the only places to feature multiple mounted animal heads on the walls. The burger comes on a bun that has bits of bacon and dried onion on it. The menu claims that there is onion in the burger, but I did not taste any of this, it's actually just dried pieces of onion on the bun itself.
They offer the ridiculously strong mustard as a condiment, which I would not recommend eating a large amount of before you test it. The fries tasted like slightly burned McDonald's fries that were just cooked again. Our friend "Mike" says this is one of his favorite burgers on the list.
#12 - Bull & Bear - Bull & Bear Burger
I'd write this review right now, but I have an appointment with a ear doctor to see if I'll ever regain my hearing after going to the Bull & Bear. There is never a silent moment in Bull & Bear, because they have about 10 tvs blaring, along with rap music beyond reasonable volume blowing out your ear drums.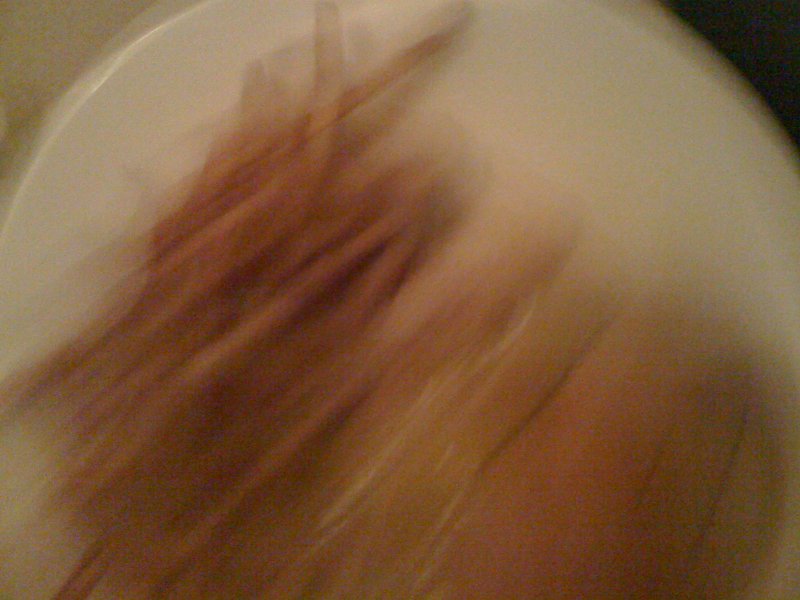 I'm sorry about the picture being so blurry, I had no idea sound waves could distort it so badly.
The fries have parmesan heavily sprinkled all over them, you will probably scrape it all off after nearly choking on the dryness of fries and parmesan cheese. Don't count on getting a refill either, the waitress cannot hear you. In fact, if you really want to have an authentic Bull & Bear experience without leaving the house, just visit their website. Turn your speakers on max. Call your mom into the room and ask her to makes burgers and fries for dinner. After you yell your order at the top of your lungs, go to the store and buy as much parmesan cheese as you can. As soon as you get the fries, dry them off with a hairdryer and dump the entire container of parmesan cheese all over it. You've now got the full Bull & Bear burger and environment, right in your own home.
#11 - That's A Burger - Double Cheeseburger
We made a huge mistake when we went to That's A Burger. The first mistake was that we got the turkey burger instead of the double cheeseburger, so this review is already pretty invalid. I didn't like the turkey burger that much, but everyone else loved it. To me it wasn't even a turkey burger, it was just a piece of turkey placed on a bun. When you eat a turkey hotdog, it actually tastes like a hotdog, and just has the benefits of turkey having less fat and whatnot. A turkey burger from here however, is literally just a piece of turkey cooked like a burger.
The second mistake we made was going at night. It's not exactly in one of the safer parts of Chicago. Your best idea would be to go as a group during the day. With a military escort. And several highly trained attack dogs.
You can't eat inside because there are no tables and the counter is behind bullet proof glass. It's probably a pretty good burger, just have a getaway route planned once you've received the meal.
#10 - Cortland's Garage - Cortland Street Burger
Cortland's Garage is a safer environment than the last place at least. The burger and fries are both good and finishable, so you can count on a meal that won't let you down. It's not the biggest burger or largest amount of fries, but it will be enough without overfilling you.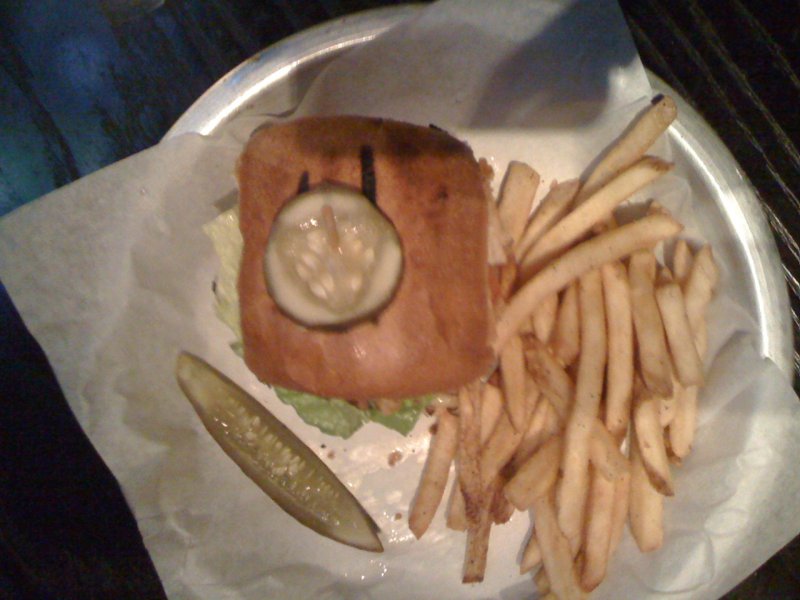 However, you may want to make a reservation for a real table. The place wasn't exactly packed, but they made us sit at the shortest table in the world, it was like eating a traditional Asian meal on our knees. Honestly I think the waitress served us on the couch and coffee table that was meant to be the waiting section.
#9 - David Burke's Primehouse - 40-Day-Aged Prime Burger
David Burke's Primehouse is a small restaurant inside of a hotel for business people. The burger had unique toppings compared to the other burgers, which included bacon mayonnaise, crispy onion shallots, and spinach. I picked off the onion things like usual and it started off okay. After awhile, I started getting full, although the bacon mayo was getting to be a little too much after awhile as well. This was definitely one of the bigger burgers on the list, and I was not able to finish it.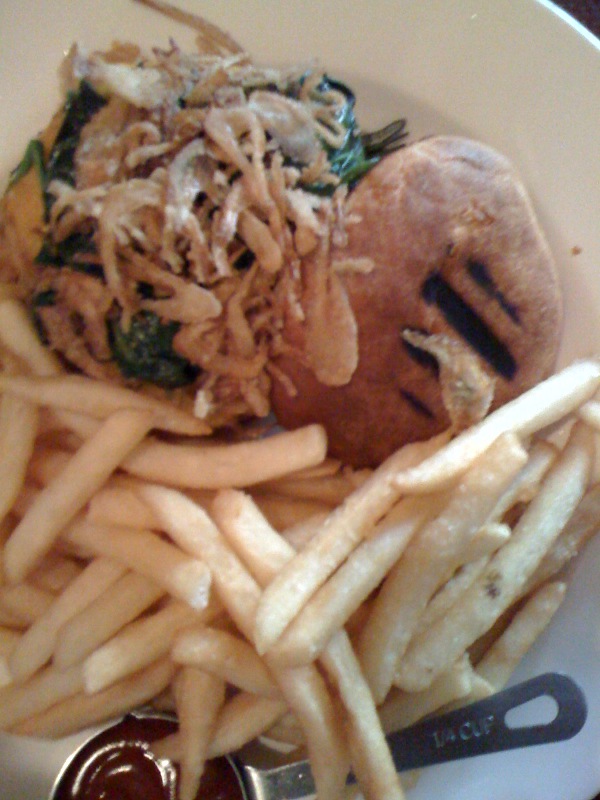 The fries were average as you can tell from the picture. Optionally, they had other fries that had cheese on top of them, I would stick with the regular fries.
#8 - Top Notch Beefburgers - Deluxe Beefburger
Top Notch had pretty good burgers, but don't count on enjoying anything that comes with it on the side. The mozarella sticks were low quality, and none of us could finish the fries. Try to ask for the burger without pickles, they really stack them up.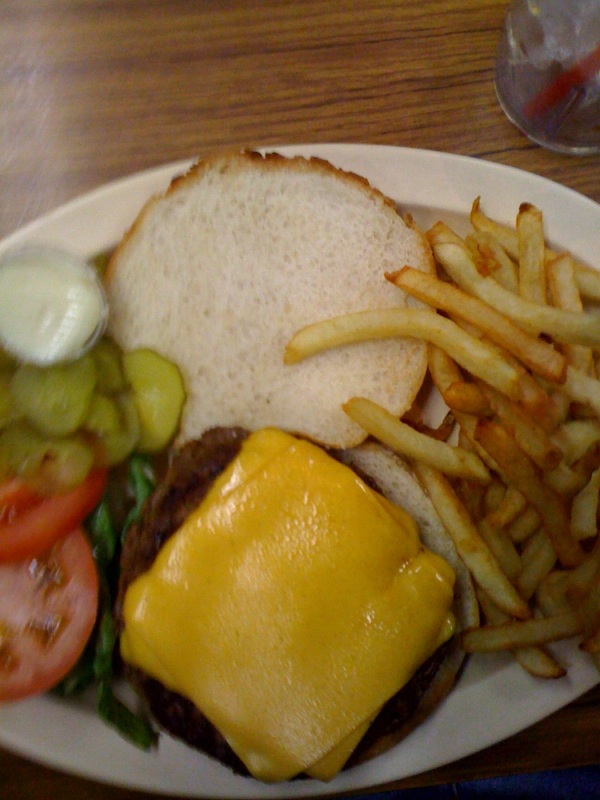 The burger tasted pretty good, and I wish I had gotten the double. It's a pretty dingy diner, but they were open late enough and the service made up for the location.
#7 - Abigail's - Cheeseburger
Abagail's was a nice stop on our list where we actually met a pair of older women that were also following the list. The bartender made them feel welcome to say the least. I probably drank the place dry of all of their kiddie cocktail ingredients as well, since we could get refills on demand at the bar.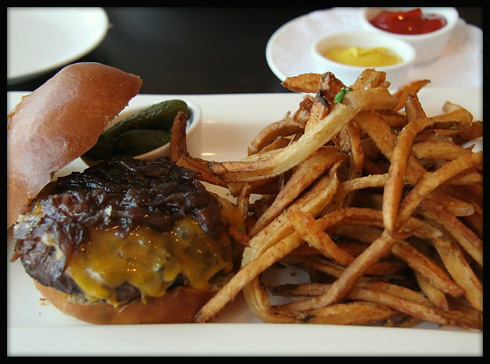 Here's a photo of Abigail's courtesy of their website. As you can see, the onions are exceptionally grilled to disgusting proportions. The fries tasted like burned curly fries and I could not finish them.
Skip the onions and this may be a decent enough burger.
#6 - Naha - Angus Beef Burger
While our waiter was very enthusiastic about the burger, we can't say the same. Do not order a kiddie cocktail (or any drink for that matter), the sizes are ridiculously small with no refills, and it tasted like crab apple drink.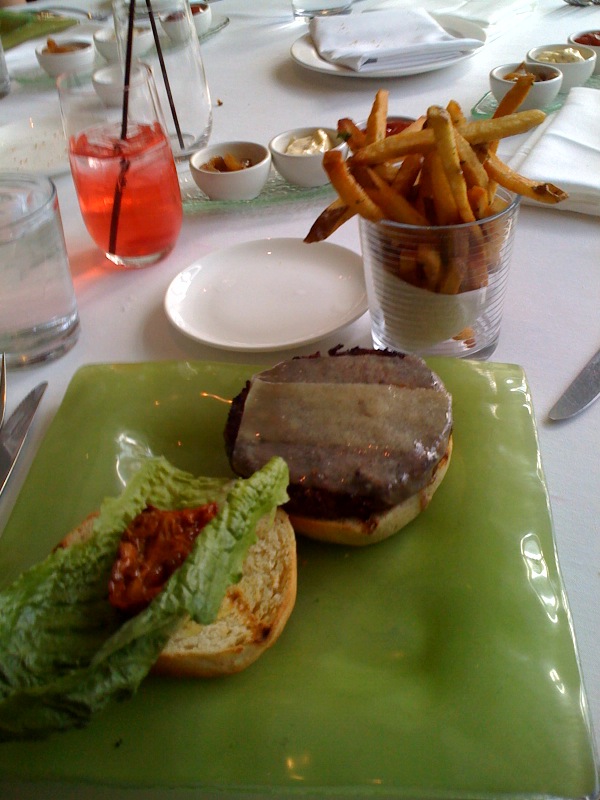 As you can see in exhibit A, you are given the single most sun dried tomato in the world with this burger. It's actually pretty sick and you can't even tell what it is when you first look at it. Skip the tomato, it will absolutely ruin the burger if you try and eat it as they intended. It's offered with bleu cheese, but I would definitely skip that in favor for the see through cheese you see above. The fries were the best part of the meal.
#5 - Macy's - Marc Burger
So you're out on the town, buying some overpriced clothing in the downtown Chicago Macy's, and you suddenly feel hungry for something on the 7th floor food court. By this time you should really consider leaving Macy's, because food is clearly not their specialty.
The idea of a barbeque burger is about disgusting as you can imagine, your best bet right now is to stray from the list and at least get a normal cheeseburger.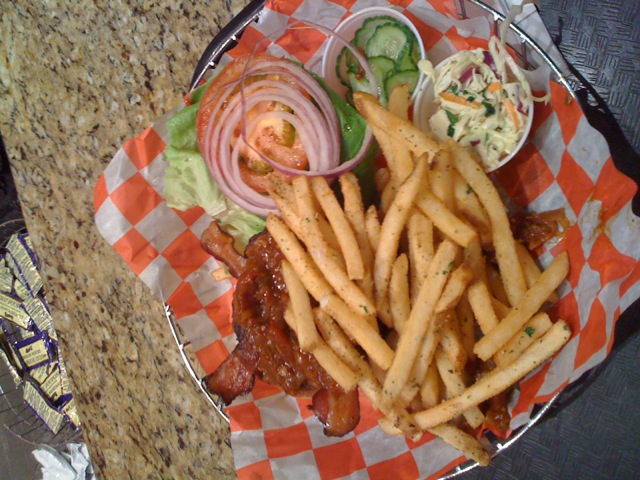 This is the only burger that I actually sent back and got a replacement. The fries alone were worth walking back up to the counter, and the regular burger I got after that was okay. They throw some bacon on it as well, but I would definitely pull that off and leave it behind, it was way undercooked.
On top of that, this is hardly a barbeque burger. It's basically A1 sauce, salsa, and then tons of water, there is nothing barbeque about this masterpiece. Skip it and walk somewhere nearby, you won't regret it.
#4 - Custom House - Custom House Burger
Custom House automatically gets some points here because we ordered the burger during dinner time and they let us sit in the normal section instead of the bar. However, they lose points because their guests are so uptight they can't handle the smell of a burger while they are eating their roasted rabbit or whatever other delicacy they decided to dine with today.
The waiter had this amazing talent of asking us how we wanted our burger cooked, we all blurted out different things at once, and he was somehow able to remember the order. It was a pretty good burger with decent fries. No refills on drinks though, but that's the price you pay at some of these fancier places.
#3 - Kuma's Corner - Kuma Burger
Kuma's was by far the most metal of all of the burger places, although the competition for this category was very slim. If you can withstand a one to two hour wait, and the loudest "music" thrashing your ear drums for the entire dining experience, then Kuma's is probably the place for you. They were also playing Conan the Barbarian on a tv near the bar, and they have a sign that informs hippies that they are to use the backdoor, while the front door will remain open for anyone metal enough to dine here.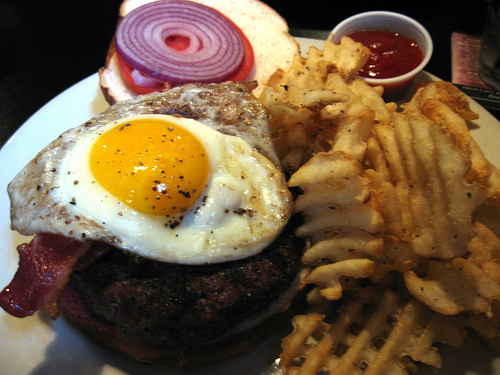 The burger itself was one of the best on this list, and it was probably the best kiddie cocktails as well, with constant refills coming as soon as we finished them. The waffle fries are good as well, but you probably won't be able to finish them after eating this massive burger and egg.
#2 - Hot Chocolate - Hamburger
HotChocolate sat us behind a bunch of curtains, probably so we didn't distract their more upscale guests. It was pretty much the trend that every restaurant did to us, so we don't blame them for going along with that.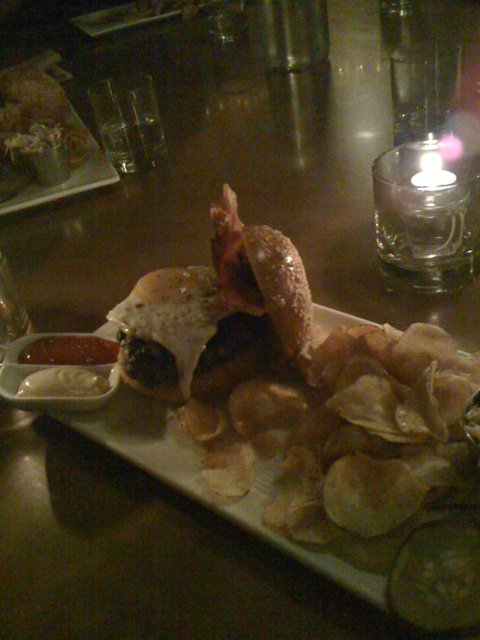 As you can see, there is an egg on this burger. It's optional, but from what I heard it added to the burger nicely. The kiddie cocktails tasted like apple juice, and the waiter was never there to refill them. For some reason this place decided to be difficult and serve potato chips instead of fries, that was a real joy. Skip the mustard too, it's not what you are expecting.
Whatever you do, do NOT order a dessert. It will be the smallest dessert in the world, go anywhere else and you will get more ice cream for less.
#1 - Prarie Grass Cafe - Top Sirloin Burger
Prarie Grass Cafe was our last stop on the list, and probably was the most fun we had at any place that far. The waiter constantly brought us french bread as soon as we finished the two mini loaves he gave us every two minutes. We ended up eating 15 small loaves, and the orders for other tables were getting backed up behind ours.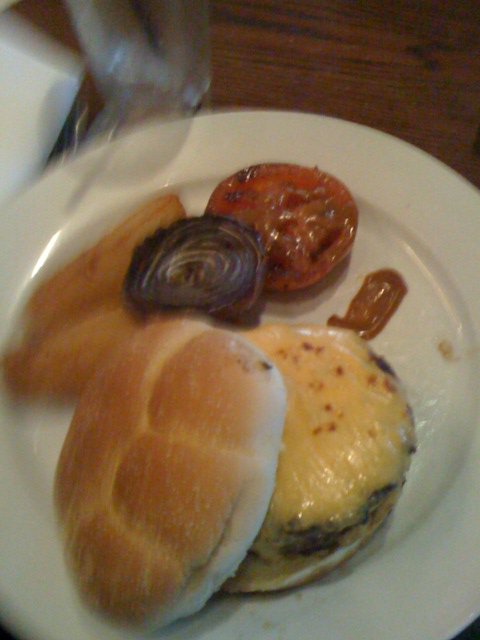 The burger itself was pretty good, just skip the sun dried tomato like you would for Naha, and the onions are definitely something to leave on the side according to the onion expert in our group. The burger comes with two giant potato wedges, your best bet would be to ask for this to be substituted for fries, or just order additional fries to go along with it.
If you want to get an idea of how tall the burger is with everything on it, refer to exhibit B below.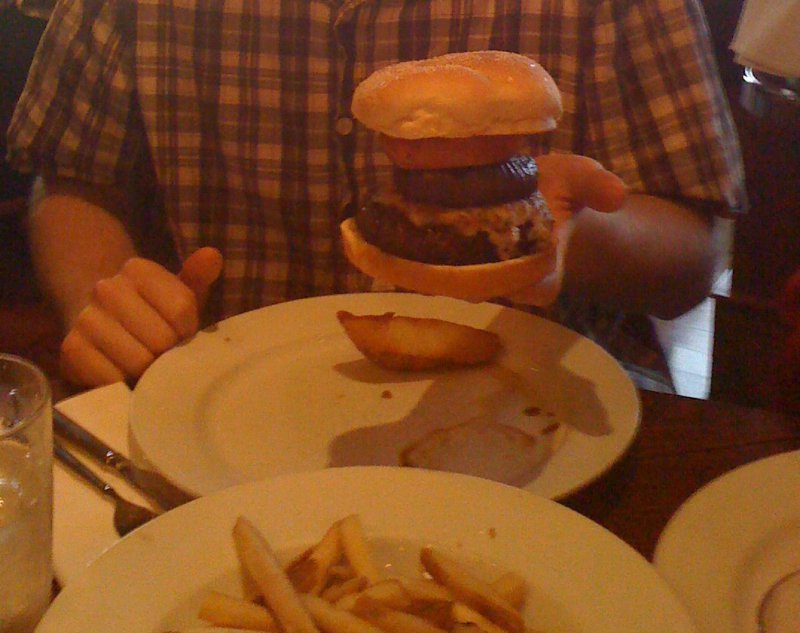 That's it for the reviews then. Although we give Jeff a hard time for his taste in the weirdest burgers, at least his idea was a fun time to eat disgusting and good burgers.